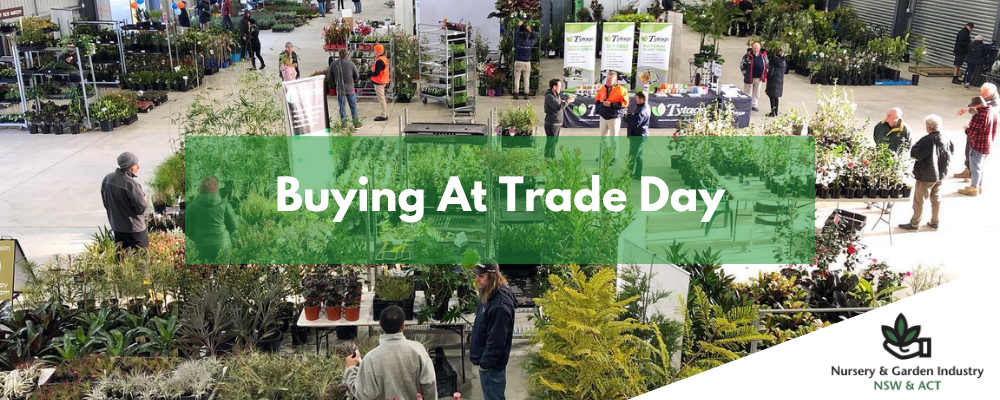 Welcome to Trade Day

A trade only plant market, connecting growers and allied suppliers with buyers from across NSW and ACT.
Our Trade Days are held in Sydney (once a month), Northern Rivers (biannunally) and Port Macquarie (yearly).

Trade Day provides buyers with access to top-quality greenlife and allied nursery supplies at the best prices. Our exhibitors span the eastern seaboard, from Queensland, through NSW and into Victoria, and stock a diverse range of plants from every climate.
Pre-purchase or buy on the day and enjoy the convenience of a central collection point. See what's new each month, talk directly with growers and hand-pick premium stock. Trade Day also provides a fabulous networking opportunity allowing you to cross paths with industry peers and stay in touch with what is happening in the industry.
We welcome new faces and hope to see you there!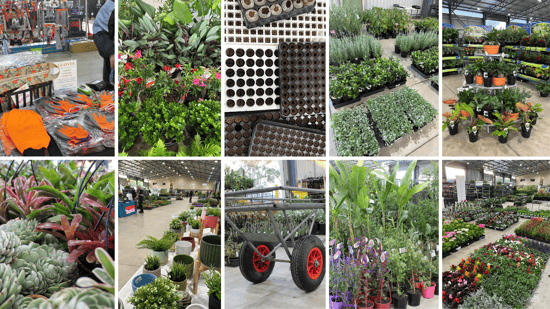 Stay connected with our Trade Day Newsletter and stay informed about all the latest updates and events:

You are eligible to attend Sydney Trade Day as a buyer if your business is industry related and you can show proof of trade. Some examples of industry related businesses include retail and wholesale nurseries, florists, landscapers and garden maintenance.

Where? Hawkesbury Showground, Racecourse Road, Clarendon, NSW
When? The third Wednesday of every month (with some exceptions). From 7.00 am to 10.00 am.
Parking? Download our Traffic flow map to find our ample and convenient parking and how to get there.
Who? See our stand holders by downloading our stand holder map and list here.

Free visit is for first-time visitors and those who haven't been in a while (6 months or more). Entry is also free for current NGINA and NGIQ members.
If you are a production nursery and would like to offer your trade customers a complimentary visit or if you would like to extend this offer to garden centre peers, florists or homewares businesses please pass on our Complimentary Visit Flyer. If you have a trade audience or database, or you're attending Trade Day as a buyer or stand holder, please share this flyer and help us to support the stand holders who show up each month.
First-Time Buyer

— call our office on (02) 9679 1472 to discuss your options and confirm eligibility
Casual Buyer

— $40 per vehicle per visit (includes access for a single month for you and your helper(s). Skip the queue by pre-purchasing your ticket. Simply call the office.
Annual Buyer

(best value) — $250 per year, which includes access to Sydney Trade Day every month for an entire year for both yourself and helper(s). You will receive a mobile pass to install on your phone, for quick entry to the market. For an additional $40 (so a total of $290), you can also choose to subscribe to our quarterly magazine,

N&G News

Download our Annual Buyer Subscription form here.

Please get in touch with us to arrange your free entry: info@ngina.com.au or 02 9679 1472
*This is a trade only event. Proof of trade may be required upon entry.

Northern Rivers Trade Day

Registration is free for all buyers. Buyers are encouraged to pre-register for great incentives including a $100 lucky door prize. (Email must be provided to receive stand holder list)
NB: Pre-registration is appreciated to ensure adequate catering but buyers can still register at the gate on the day
Trading commences 7.30 am. No stock is to be removed before 9.00 am (no exceptions due to WHS)

Where? Alstonville Showground
When? 14 March 2023 & 12 September 2023. 7.00 am with a free cooked breakfast.

Bookings to: Julie-Anne Pearce, Pearce's Nurseries
t: 02 6628 1289
e: julespearce@bigpond.com

Buyer registration is free!
Trade Day kicks off at 6:30am with breakfast (bring $5 cash for breakfast).

Where? Port Macquarie Race Course, Port Macquarie NSW
When? 29 August 2023. Trading commences from 7:30am

For more information contact Julie Worland
t: 0438 544 204
e: julieworland@bigpond.com

2023 Trade Day




Calendar

May


Jun


Jul


Aug


Sep


Oct


Nov


Dec


Date
(Wednesday)


Sydney
Wed 17


Sydney
Wed 21


Sydney
Wed 19


Sydney
Wed 16

Port Macquarie
Tues 29


Sydney
Wed 20

Northern Rivers
Tues 12


Sydney
Wed 18


Sydney
Wed 15


Sydney
Wed 6