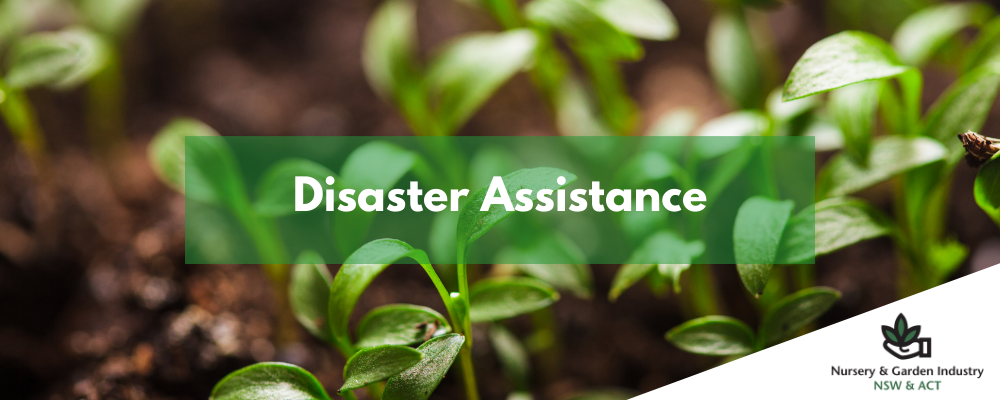 Preparing and recovering from a disaster can be an overwhelming task. If disaster strikes, here is a list of resources and links to help you.

As always, the team at NGINA are here to help be while preparing/recovering from a disaster:
If you require assistance due to fire, flood and storm emergencies, please phone NSW SES, 132 500. In life-threatening emergencies call 000 (triple zero).

Keep Updated:
Keep updated on new warnings via the NSW SES website and their various social media channels.
You can also keep updated via the ABC radio. The ABC Emergency webpage is also a useful tool for emergency and general information on disaster preparation and recovery

Be Prepared:
Click here for a Nursery Preparation List specifically for floods—useful for anyone not yet impacted but preparing for further wet conditions.

Click here for the RFS bushfire Survival Plan - Make sure your Nursery/Business is bush fire ready!

Australian Plant Production Standard (APPS), has some great resources and checklists for preparing for disasters.

Get Assistance:
Clean Up Assistance
NGINA will assist with mobilising people to help with the clean-up and spreading the word to borrow equipment. Please send any requests for help to info@ngina.com.au and likewise do the same if you are able to offer time and/or equipment.
Government Assistance
In response to the 2022 storms and floods, Disaster Recovery Funding Arrangements (DRFA) were declared on 4th of March across the following Local Government Areas:

Armidale, Ballina, Bellingen, Byron, Clarence Valley, Coffs Harbour, Glen Innes Severn, Hornsby, Kempsey, Kyogle, Lismore, Nambucca, Port Macquarie/Hastings, Richmond Valley, Tenterfield, The Hills and Tweed.

DRFA were declared on 6th of March across the following Local Government Areas:

Bayside, Bega Valley, Blacktown, Blue Mountains, Camden, Campbelltown, Canterbury Bankstown, Central Coast, Eurobodalla, Fairfield City, Georges River, Hawkesbury, Inner West, Kiama, Ku-ring-gai, Liverpool, MidCoast, Newcastle, Northern Beaches, Parramatta, Penrith, Ryde, Shellharbour, Shoalhaven, Sutherland, Wingecarribee,
Wollondilly and Wollongong.

Click Here to find out more about flood assist.

Once approved, eligible primary producers can access $15,000 in assistance up-front, with a further $60,000 in financial assistance available thereafter upon submission of valid tax invoices. For further information please refer to the NSW Rural Assistance Authority page
Grants for small businesses - up to $50,000 is available to cover costs including repairing damaged fittings and equipment and replacing stock. Call Service NSW on 13 77 88 or register here.
For staff and families who can't attend work, the Disaster Recovery Payment is $1000 per adult and $400 per child. For a family with two adults and two children, that's $2800 available now. The Disaster Recovery Allowance (DRA) is an ongoing payment for a maximum of 13 weeks. This is up to $677 per fortnight, depending on your personal circumstances. Click here to claim the Disaster Recovery Payment Or Click Here to claim for short term assistance

Farm Household Allowance is a federal scheme that includes other fortnightly support payments.

If you require support to claim, call the Australian Government Emergency Information Line on 180 22 66.
Growers who are affected by the floods should if possible fill out the NSW DPI natural disaster damage survey when practical to do so. This survey will help inform NSW DPI and LLS to shape what help is required and where in the coming days and weeks.
Ask For Help:
Looking after your mental health following a disaster.
It's common for communities and individuals affected by a disaster to experience a range of thoughts, feelings, and behaviors that can be intense, confusing, and frightening. These reactions can be severe and are at their worst in the first week after the event, however, in most cases, they fade over a month. Some common reactions include:
· feeling overwhelmed
· feeling numb and detached
· inability to focus
· inability to plan ahead
· constant tearfulness
· intrusive memories or bad dreams related to the event
· sleep disturbances
· constant questioning – "What if I had done x, y or z, instead?"
· 'replaying' the event and inventing different outcomes in order to be prepared should it happen again.
Dealing with the emotional impact of a disaster:
· spend time with people who care
· give yourself time
· find out about the impact of trauma and what to expect
· try to keep a routine going e.g. eating, sleeping, work, study routines and returning to normal activities
· talk about how you feel about what happened when you are ready|
· do things that help you relax
· set realistic goals that keep you motivated, but don't take on too much
· review and reward progress – notice even the small steps
· be prepared for times when you feel you are making no progress, everyone experiences this
· talk about the ups and downs of recovery with friends, family and the health professionals involved in your care
· have a plan to maintain positive changes and plans to deal with times of stress or reminders of the trauma.
For free, immediate and confidential support, you can call:
Beyond Blue - Talk to a trained mental health professional any time of the day or night. Calls are confidential. They will listen, provide information and advice and point you in the right direction to seek further support. 1300 22 4636

Lifeline - 24-hour crisis support telephone service. Lifeline provides 24/7 crisis support and suicide prevention services. 131 114
Kids Helpline - A telephone counselling support line for children and young people ages 5 to 25 and available 24 hours a day, 7 days a week. 1800 551 800
Emergency 000 - If you or someone you are with is in immediate danger, please call 000 or go to your nearest hospital emergency department.