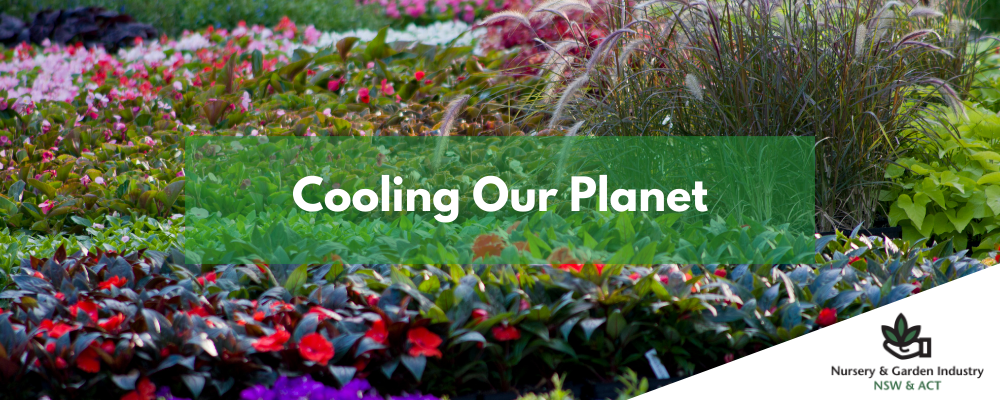 Environmental Solutions from the Horticultural Industry
NGINA is the peak body for amenity horticulture and represents the interests of an industry with sales of around $2 billion per annum and employing over 16,000 people. NGINA can assist residents of NSW to reduce energy consumption, thereby reducing pollution and adapting to the impacts of global climate change.
Our industry has sensible long-term environmental solutions to these climate change issues. Tackling these issues as part of a cooperative whole of government and industry approach will provide important environmental and economic outcomes for residents in NSW and ACT.
The Australian public are very focussed on climate change issues following the release of the Garnaut Climate Change Review.
NGINA is committed to working closely with NSW and ACT government departments, councils and agencies to promote the theme of "cooling our planet, one backyard at a time."
Together, we should be promoting the following issues (as outlined in the booklet):
Household energy consumption can be reduced through efficient garden design, in particular the placement of trees around homes and small buildings.
Internal temperatures reduce by 6-12 degrees Celsius in summer. Multiple trees can achieve energy reductions by as much as 40%.
Reduce the heat island effect by improving urban forests through evapotranspiration.
Reduce pollution and increase carbon absorption.
Assist householders to reduce their carbon footprint.
Urban trees enhance visual aspects of streetscapes, parks, public and private gardens, and municipal-owned premises such as car parks.
Urban trees reduce the ambient temperature significantly. The public seek shelter and shade in car parks and streets. Street and park trees in urban areas reduce winter wind speeds and can reduce heating costs by as much as 30%.
Urban trees planted in a manner that is in keeping with surrounding architecture will provide a sense of calm and help in the reduction of street crime and violence. More trees equals less crime and violence. More trees equals less crime.
NGINA staff has a wealth of knowledge regarding these issues and we look forward to working with you to make our environment a better place to live in.

Download the Cooling our Planet booklet